heyy! i was promote to fullbuilders last week. as you know need 2 mini's to be an actual part of canon projects as my first mini project i'm interested in goodeham1

i made this plot you see in the imgur link recently


this is my first plotting of the hamlet

each color has a different meaning
red means buildings for animals barns/sheds
yellow means mid-low class houses
white means low class houses
and blue is the well

its on air in my plot ( /warp batelgause) you can find additional and needed information there. i'm open to change anything and waiting for your feedbacks. the yards are just to show my plans for now. i'll redo them properly as the professions are decided and project goes on

feel free to leave melons or contact me via discord or ingame i'll be waiting for your opinnions and feedback

i hope you like it. have a nice day !
Hey Batel!
I also was able to take a closer look at your go at goodeham1
And i have some feedback for you i wanted to adress.
First off i wanted to say your house placement is good, you kept to the shape of the road and curved the houses around it, just make sure to only plan the central buildings, i saw you planned a small animal penn inside the hamlet, this is not needed as the animals would be out in the nearby fields. Maybe turn this into a small barn where they can be kept during the winter.
Also try to take a good look at your professions, when you plan out your hamlet, the best way to do this would be to do some research on what would be present in a medieval hamlet just like the one your building. You could also take inspiration from other hamlets around the server.
And finally take a good look at your yards, imo they are a bit to messy and bubbly right now, make sure to make them feel more natural with the landscape.
When you plan them make sure the spaces between the diagonal lines have the same amount of blocks, see picture below.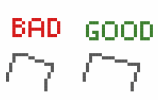 That would be it for now, you can always ask for advice when im online!
You made a good start on your first mini!