Gullible
Staff member
Moderator
Northern Reach Megabuild​
by Luk
I'm applying to redo both Risley and Smithyton, which both are abandoned. Clause C of the No-Redo-Rule applies in this case.
c) Abandoned Build Clause: If a build is incomplete and filed under the project orphanage as an abandoned build, it may be allowed to be redone. The intuition behind this clause is that it can be difficult to pick up someone else's outdated work, and if we expect people to do this very few people would want to apply to finish abandoned builds. However, moderators reserve the right to veto a redo for an abandoned build if they deem the existing portions to be particularly high quality.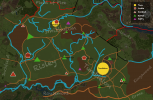 Overview​
The Megabuild will consist of three projects in total: Tumbleton (already in progress), Risley, and Smithyton.
The region will be continuing the new style established at Tumbleton.
To see the house style in action, you can go to
/warp statham
or see the (in progress) style guide near
/warp tt
​
Goals​
To ensure a cohesive style across the region
To create consistent terraforming (i'm thinking rivers especially)
To fill the big unfinished gap between the reach and crownlands
To give people opportunities to apply for mini projects
To ensure consistent plotting of roads and villages without weird transitions between projects
How to contribute​
Builders will be able to apply for minis; that could be hamlets, septries or holdfasts.
There might also be additional special builds (e.g. a farm complex, a mine, etc.) which aren't planned beforehand.
Of course, every builder can contribute by building individual houses as always.
The castles/towns will not be open for testing, those will either be done by myself or delegated to an experienced builder.
Regarding Mini Applications, keep in mind:
The application is judged by quality, not by first-come first-serve.
Approval Process​
Tumbleton
is already approved by
Elduwin
and
Ramen
.
I would appreciate your guys renewed approval for these plans, but i would prefer to get the opinion of a third approving mod too.