Dark greetings from the Wall!
As covered in the Nightfort
Project Document and Status
thread, the Server Build will include four separate parts:
Completion of the Nightfort;
Completion of Eastwatch, Long Barrow and Rimegate;
Updating completed Wall Castles; and
Populating the Gift with immersion builds.
We'll be updating this thread to flag the Available Projects, Mini Applications and Updates that are currently open for expressions of interest and applications.
9 March 2021

1. Nightfort Mini-Apps
- Testing for the Nightfort is heartily encouraged at /warp nftest . Try out your ideas for the stables swallowed by trees, the ruined octagonal kitchen and any and all buildings and areas covered in the
Project Doc
.
- The Nightfort itself is still in very early stages. Once the layout is relatively locked in I'll update this thread and the dynmap letting you know what's available to apply for, e.g. "Apps are now open for the Nightfort Kitchens".
- FYI I don't expect you'll have to write a full forum post for these castle mini-apps or anything, we'll just ask you to build a concept on your plot (hold off on finishing the test though, we'll be prioritizing soundness over state of completion). Collaboration encouraged!
2. Eastwatch and Rimegate
- Applications are (still) open!
- The beauty of Server Builds is that you can apply for these like a regular project and it's not an issue if you're currently working on your project separately.
- See the
Project Doc
for some general info on Eastwatch and Rimegate.
-
Auscarbone
has confirmed they're still interested in completing Long Barrow, so stay tuned for more news on progress there.
3. Updating completed Wall Castles
- Anyone interested in updating the completed Wall Castles are encouraged to test out ideas for showing snow covered ruins at /warp nftest .
- I'd love something like a catalogue showroom of ways to build dilapidated frozen Nights Watch castles so we have a consistent and comprehensive toolbox to work with when updating them.
- In the meantime
Veggie
Knight_Krawler
JohanKR850
jmcmarq
Lyliana
Birdman7
NickShaib
@Barkus
Ramen
Steineke
jMp007
jakeyquack
IMajic
Endymion
carci
mdmeaux
get in here and claim your right of first refusal to update your respective Wall castles.
- The chance to call first dibs to update your castle will probably expire after April.
- The original builders of Woodswatch, Stonedoor and Deeplake (Barkus, herm1456 and Rickard Karstark) don't appear to have forum accounts so these might be the first castles to become available (assuming the OG builders can't be summoned RIP).
4. Populating the Gift with Immersion Builds
- Applications and expressions of interest are open for open for immersion builds around the Gift.
- See the
Project Doc
for some general info on
- I don't want to be prescriptive as it's totally up to your imagination what these immersion builds might feature. Take a look at
Johan's Gift immersion build
for inspiration and the
Project Doc
for some more general info on the area.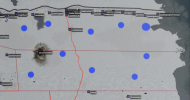 Huzzah!