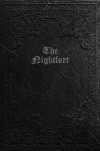 (click the book for link)
The Nightfort is the largest of the Night's Watch castles along the Wall. Once the seat of the Lord Commander, it has now stood abandoned for the last two hundred years. It sits between Icemark to the west and Deep Lake to the east. As the oldest of the Wall castles, the Nightfort figures as one of the most storied and haunted locations in Westeros.
The Nightfort has long been planned as a server build and it's our intention to keep it that way. I'm proposing that the Nightfort Server Build encompass four elements:
Completion of the Nightfort;
Completion of Eastwatch, Long Barrow and Rimegate;
Updating completed Wall castles; and
Populating the Gift with immersion builds.
Whether you're interested in taking lead on building the Nightfort Kitchens, of you have an idea for an abandoned hamlet in the Gift, or would just like to update Deeplake, with all these elements there will be something for everyone to contribute to.
As with other recent Server Builds like Highgarden, the Arbor and the Westerlands MegaBuild, the plan is to maximise the opportunities for areas of the project to be available as mini-apps to individually apply for under the umbrella of a consistent styleguide and oversight.
I'll be taking point on organising the project, but will be looking for maximum engagement from other mods and builders.
From the outset I need to ask everyone interested in contributing to show patience, respect and courtesy to other builders involved.
There may come a time where someone applies for the same location/building/area as you, and this is just an inevitable part of collaborative projects. Ideally I'd hope that anyone interested in working on the same part of the project as someone else would find a way to combine the best elements of both their ideas and apply jointly. This might not always be possible, so just always measure your expectations and keep in mind that your idea might not get used (take a look at the dozens of unused tests for Highgarden towers, dungeons and gardens floating around test that I made for instance).
That all being said I'm really excited to finally get the Nightfort underway, and finish the Wall, once and for all.
And now our watch begins!