What is your Minecraft username?
Jeffjunior
What is your age?
21-24
In what country are you living?
Germany
Where did you first hear about WesterosCraft?
Youtube
What do you like the most about GoT/ASoIaF?
I love the Stormlands and house Baratheon (not Joffrey) my fav Charakter is Gendry
What is your favorite build on our server?
I Love the Terra and the Small Castles
Why do you want to join our server?
I want to build again in a bigger Team. + I love GOT so lets go
Tell us about your build.
First sry for build on Super Flat but i hope its not a big deal.
Its a Small old tower in the Riverlands. In the tower live some Farmers.
Its the First time i build with so many blocks so ist hard to chosse my block colors but i think its not bad.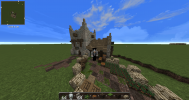 Did you follow the application rules?
You know nothing, Jon Snow
Last edited: