Replying the amazing map, done by Azulejo, I would like to suggest more concrete inspo, based in what was shown, i did this map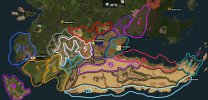 Region 1: Cordillera Cantábrica and northern green Spain regions, (Asturias, Cantabria, Euskadi, Picos de Europa...)
Region 2: Galicia, Macizo Galaico, the images of the romanesque areas of the Camino de Santiago
Region 3: Provence and the Mediterranean France, Roquefort could be very great for this area
Region 4: The French Hautes Pyrennees, Bigorre, Neouvielle, Gavarnie, Le Tourmalet...
Region 5: The Spanish Pyrennes (Central Pyrenees such as the areas of Ordesa, y Monte Perdido, Tena, Biescas,)
Region 6: Aragón, Navarra and Castilla León, with the inland valleys of the central Northern Spain , (El Teleno, Moncayo, Las Médulas, Riglos...)
Region 7: Croatia, I tnink the works done by WRMD fit perfectly for this area.
Region 8: Catalonia: Mountain Northen Areas: Vall D'Aran, Nuria... South ranges and shores: Montserrat, Montseny, Costa Brava...
Region 9: Portuguese Alentejo and Algarve
Region 10: Croatia and Greece, Good Job done by Eld
Region 11: Sistema Central of Iberia, Sierras de Guadarrama and Gredos, Valles de Navacerrada, Segovia, la Pedriza, la Vera y el Jerte.
Region 12: Serra Tramontana in Mallorca and the rocky shores of Valencia, Castelló and Alicante.
Region 13: Shoreline mountains nearby Almería, or Cartagena. The shores of the Palos/Gata/Tarifa capes can fit very Great there.
Region 14: Andalusian and Murcia Shorelines (Costa Cálida/del Sol) and ranges: (Sierra Morena, Serranía de Ronda...) Good Job done there by Marg.
Region 15: The hot Iberian Mesa, Castilla la Mancha, Community of Madrid, and Extremadura, I would do there a large mesa slightly green
Regions 16-17: The Sistemas Béticos and Sierra Nevada.
Region 18: The desert areas, valleys and oueds of the North Africa (Morocco, Algiers, Lybia...
Region 19: The Atlas Range
Region 20: Shorelines of Esaouira and Western Sahara.
Region 21: La Côte D'Azur and Monaco
Thanks
JMC
Last edited: