Servus everyone,
I am submitting a redo application for the Oldcastle project to the north.
I refer to the Redo Clausel: 1c Abandoned Build
This is the map how it is NOW before the REDO:
The Project were once planned and finished to 90% by builder
Cpt_Jamo
and Editor
Georni
.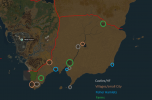 My Plans: (big plans in the application-coming soon)

Transition from WH to OC:
The transition should be smooth and includes terra and house styles. The style slowly changes towards the north

Terra:
The basic structures such as rivers, coastlines and inland remain.
There will be a smooth transition from WH to Oldcastle, gradually progressing north.
Luckily i have the master himself:
carcinogenius
as terra support. Big thanks for helping me!
Castle and Defense:
The castle position will stay the same, around it will be new terra (Dunes). To emphasize the proximity and dependency to WH there will be no town right next to the castle.
In earlier ages, oldcastle was often attacked by diff pirates from the stepstones, the three sisters and other marauders.
Therefore there will be a multitude of old and reused defenses around the coast.
Villages and Cities:
Most of the positions of the old villages and small towns are preserved. In addition, there will be a large variety of farms, animal husbandry and fishing villages.
Miscellaneous:
A trade route coming down to WH from the north would be a great addition.
The endless expanse of the north will be equipped with great landscape and small POI.
All information about the project will be summarized in a later correct application.
Since I'm still planning, there is no map of what it will look like. I will make one.