King's Landing District 5
Old Gate /warp kl5
District description
At the end of the Street of Silk, you'll find the Old Gate. No one is quite sure why it is called "old" but non-canon sources say it was the first gate built in King's Landing[citation needed]. Just inside the gate is a small square adorned with festival decorations. The area has a festival-like feel, fun and lively. Surrounding the square are 2 brothels, a tavern, a customs house, a city watch barrack, and stables among other buildings.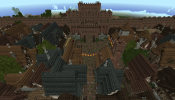 New Canon
The Old Gate has little lore to begin with but Fire & Blood provides us with some information.
"Lord Staunton's head was carried back to King's Landing and mounted above the Old Gate…"
- Fire & Blood, The Dying of the Dragons- The Red Dragon and the Gold
"The gold cloaks at the Old Gate and the Dragon Gate sallied forth under the command of their captains, Ser Balon Byrch and Ser Garth the Harelip…"
- Fire & Blood, The Dying of the Dragons- Rhaenyra Overthrown
At some point, Ser Balon was also the captain of the City Watch and later, the commander.
District's Current State
The small district contains a few buildings, an open-air theatre and the gate house. After inspection of the area, replotting will not be necessary. It is decided to keep the theatre as it blends well with the atmosphere of the area. In general, wood logs need replacing, roof and facade materials need updating and fence windows need removing. Several furnaces have chimneys which do not connect with the chimney. The tavern has an odd extension which is now relocated. The area will be replotted by KL4 district leader,
Scubooty
.
District Plans
The amount of buildings is small. Please refer to the linked Google Doc for my thoughts on each of the plots.
General style available at /warp klupdate
NOTE FOR ALL PLOTS: Remove and/or replace fence windows. Replace all wood log beams and supports. Roof and facade material are indicated above the building.
Document here:
https://docs.google.com/document/d/131Hnbf1V8kOWRskT7KJ-TjeQacLK7sSUXU5C4yroKcQ/
The most significant change is modifying the tavern into a tavern/inn. The kitchen, which was part of the removed extension, will be put into the first floor.

Last edited: