Before scrolling down: please see the poll above and leave your answer ASAP. "Better Grass" is an option added by Optifine that makes grass blocks connect to other grass blocks rather than having dirt on the sides, as shown in the picture directly below. I want to get a representative view of who uses this feature, so the more people who answer the poll, the better.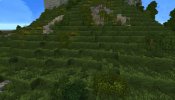 -----------------------------------------------------------------------------------------------------------------------------
I want to open up this thread for discussion about this feature, since there are multiple interrelated issues that have come up with respect to it.
First,
Thamus_Knoward
created a patch that makes the color of the dirt on the sides of grass blocks lighter in Mushroom (savanna/desert) biomes, shown below. However, this patch also breaks the Better Grass feature within these same biomes. Hence why I want to gather preferences on who uses Better Grass before pushing this patch to a texture update.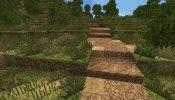 Second, since Better Grass is an Optifine-enabled feature, it will no longer work upon the migration to 1.16.5, since Optifine will no longer be part of our custom client. While it will still likely be an optional install, if we want Better Grass to be a default option in the future, we'll likely have to find some alternative way to provide this feature without depending on Optifine.
Feel free to leave your thoughts on any of this, but the poll is most important! Having a sense of how many people actually use this feature will be useful going forward.