Donkey Lord
Staff member
Moderator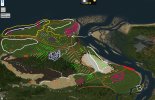 A = the old tiers of the quarry used to build the castle. now used for part of the village? Postern gate/crane down for quick resupply of the castle connects to a road here too, if you want.
B = a small island that wouldn't be too stable but idk what could be done with it. Maybe a picnic spot?
For the abovemap I've tried to keep as much as possible of your planning, with my recommendations there also. This includes having only one eastern holdfast, between BWK and the vassal keep and filling in the lagoon area with a stream, fields and silvopasture. The roots would help stabilise the banks of the river, keeping the river course a little straighter than if it wasn't there. Also, the little drawings were because I wanted to play around with 3d perspective. They're not representative of overall size.
Maroon - fortifications. I suggest that you reposition the castle to be flush/directly above the town on the steepest part of the cliff and thus enable it to have natural walls. It also then can provide fire on incoming ships before reach rivercraft can engage with ironborn reavers.
Grey- Cliffs around the castle. I was thinking if it also had a steep incline on the SW side, that'd help with the idea of its existence as a separate petty kingdom.
Red - indicates the rough size of settlements. I've tried to the same locations are settlements
Light Green - Managed woodland. When together with white borders, this is silvopasture. Otherwise, they're for timber, or copses for brushwood, firewood and wattle.
Lavender - Septry.
Sage - Orchard of fruit trees, nuts or a mix of both. I'd suggest having some big walnuts or chestnuts (get a big oak then give it hop leaves and lime leaves mixed in for a chestnut) in or around a few settlements.
Grey - A farmstead complex. They run mostly sheep but have a dairy with cattle and manage the nearby orchard and vineyard. Specially supplies the castle with cheese (little details to make it more interesting?)
Purple - A small vineyard ran by the nearby farm
Orange - Shepherds crofts or shielings. Great examples on the moors at Rhysling.
Yellow - Herby scrubland. This could be rosemary, thyme, broom, wild lavender. Anything low and gnarled. Animals are let to graze in it too. Maybe some hives in it too.
Dark green and White - Same as your plans. Forest and Pasture.