Request: Borderless diagonal timber beams

Request Type:
General Addition
Try to describe all workarounds and associated issues that make it necessary to add this block in your eyes.
Currently there is no particularly nice way to represent diagonal timber bracings. To make diagonal bracings on the sides of a building for example, you have to use the bordered left/right hatch blocks, all of which will have horizontal pieces cutting through each block line if you use them in conjunction with other frames. Otherwise if you use the hatches alone with plaster, you have a box around the diagonal bracings which looks pretty bad. For this reason I don't think many people use diagonal bracings and opt instead for other designs.
Regarding the question of if this may outdate other builds, personally I don't think so. To me this seems like it could work as an additional method for existing half timber designs we use on the server, and older techniques still look fine for their intended purposes.
Below is what I propose could be implemented:
Diagonal bracing (left/right): Using an overlay CTM to bleed into adjacent plaster blocks.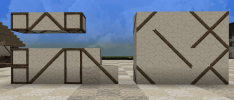 Example used in a Vale-esq house. The diagonal bracing allow for accurate German half-timbering.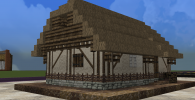 Types of evidence to support your request:
Historical
Historical Evidence
There's a large historical precedent for including these borderless diagonal bracings. Using them on the corners of a wall was incredibly common in almost every part of Europe.
File(s) attached